Design a Stylish Entryway with These Foyer Rug Ideas
Design a Stylish Entryway with These Foyer Rug Ideas
Decorating your home's entryway and foyer is an excellent way to give your guests a warm welcome. While you wouldn't always think to put a rug here, they can help start every visit or trip home on the right foot. Here are some entryway foyer rugs ideas as you begin your design process.
Why Use Entryway Foyer Rugs?
There are many reasons why your home's entryway can benefit from a rug. One of the main reasons is that foyers are a high-traffic place in the home. Placing a rug down will protect your floors against wear and tear.
An entryway or foyer rug also keeps outdoor elements from getting all over your house. In transitional times like fall and spring, there can be more mud and moisture on people's shoes. A rug in the entryway keeps minimizing the outside crud getting trekked indoors. 
Finally, explore entryway foyer rugs ideas for your home that contributes to your interior design. You can have fun with patterns and designs to match your decor and the time of year. All you have to do is pick the right type of rug for your space.
Best Entryway and Foyer Rug Ideas
Runners
Sometimes the entryway of your home is more narrow. This can include front doors that lead to a hallway, stairs or mudrooms where people can take off their shoes. In these instances, a runner is one of the best options. Runners will give extra grip and help make small, narrow areas look longer.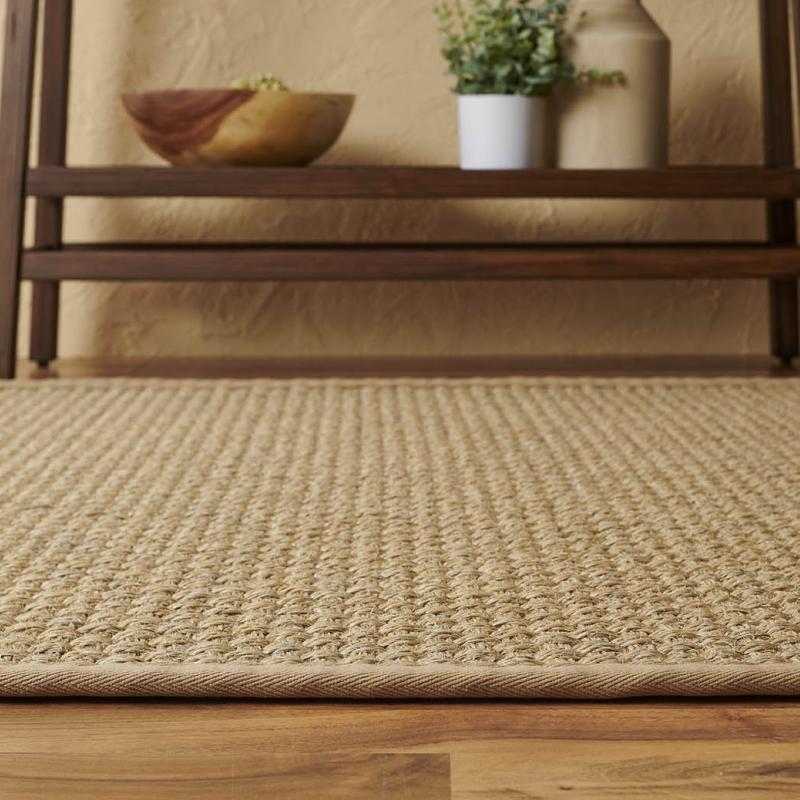 Try the Trinidad Sisal Rug Collection in pampas as an entryway runner.
Small rugs
A grand entrance doesn't mean you need to have a big rug. If you're looking for entryway foyer rug ideas for an apartment or even a larger front door area, a small rug is the answer. For apartments that are short on space, a small rug won't take up too much space. However, when you use a small rug in a large foyer area, it can add a pop of color and spice without overtaking the space.
Outdoor rugs
Can you use outdoor rugs indoors? Yes absolutely! They often fit the criteria that you need for entryways, foyers, and mudrooms. Polypropylene and polysilk outdoor rugs work wonders indoors. They can look like wool and sisal rugs but stand up to stains, moisture, and outdoor elements but better.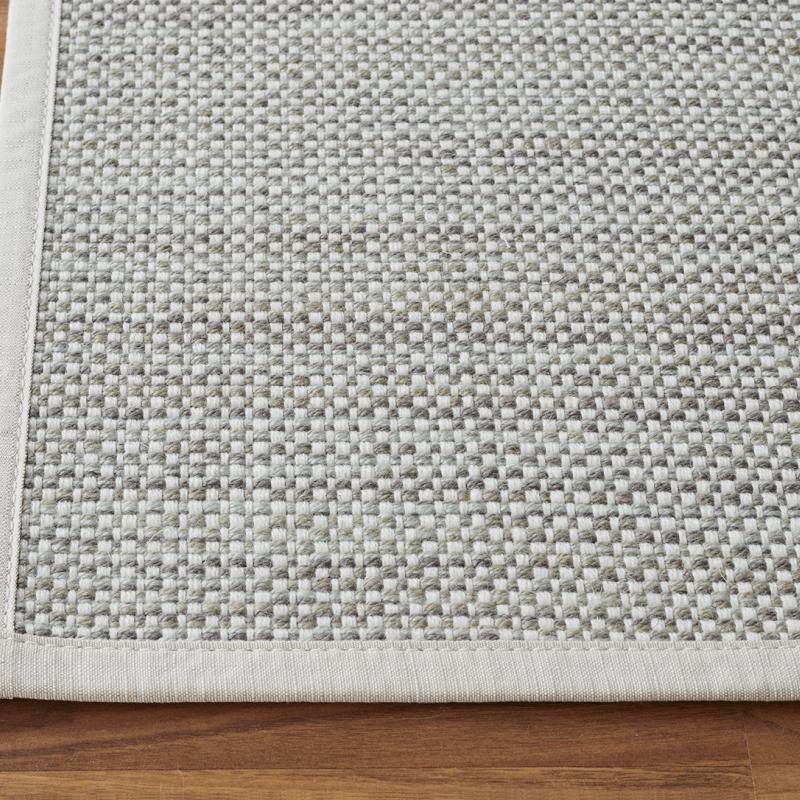 Consider the Playa Polysilk Outdoor Rug Collection in Aqua Mist for your foyer.
How to Style Your Entryway
No matter which type of rug you choose, there are many creative ways you can use it to style your entryway. Here are a few of our favorites:
Mix and match. Have fun finding furniture and art that contrasts and compliments your rug.
Keep it personal. Don't let trends rule everything. Your entryway is the door to your home and should always reflect your personal taste.
Antiques. Use pieces from the past to add a slice of history or hominess.
Patterns. It can be on your rug or wallpaper, but patterns will add a splash of fun to your foyer.
Shoe showcase. No need to have people pile their shoes on the floor. There are many stylish shoe holders that can level up your entryway.
Creative coat hooks. Another way to make use of storage in your entryway is to have fun with hooks where guests can hang coats and hats.
Welcome wall. Make an eye-catching conversation piece with bold wallpaper, art, or a message board to welcome people into your home. 
Welcome Home
Now that you've gone through these entryway foyer rugs ideas, it's time to get started on decorating. Don't get overwhelmed. Designing your entryway is a small project you can tackle bit by bit. Start today by looking through our huge selection of custom rugs.  

Sign Up and Save 10%
No, Thanks