Fall Interior Design Trends for 2020
Nothing can stop the changing of the seasons and, with them, the changing of seasonal trends. This summer we found the trends gearing towards ways of making your home more quarantine friendly. We were looking at antimicrobial materials and remote work friendly space development.
Now that we're into the second half of 2020, an already incredibly singular year, we're seeing the further development of these trends. Now that homeowners have become more settled into lives with more time spent at home, trends have shifted toward how to make home... well... homier. 
Comfort. Coziness. Ease. These are the underlying themes beneath all the fall interior design trends we've researched and listed for you in today's post.
Our Top 5 Fall 2020 Interior Design Trends
#1  - Earth Tones that Reflect the Season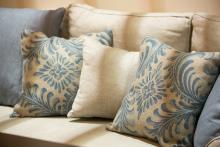 This might be surprising, considering this year's Pantone Color of the Year is the cool, deep Classic blue. The fact of the matter is, people miss the outdoors. This is being reflected in homeowners making design choices that bring the tones of nature straight into their living spaces. Shades like olive green, yellow ochre, and burnt orange not only bring warmth but also a connection to the great outdoors. On top of that, earth tones can easily be introduced in a number of different ways: wall colors, linens, or even natural fiber rugs.
#2 - Floral Wallpaper to Make the Home Bloom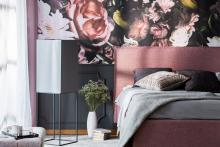 Floral wallpaper brings an unadulterated burst of liveliness to any room it's added to. That's why it's an emerging trend this fall, just like earth tones: it honors the outdoors while remaining safely indoors. Floral wallpaper is incredibly versatile too, because it gives you plenty of options ranging from light, delicate blooms to vibrant, bold blossoms.
#3 - Integrated Hardware for Seamless Looks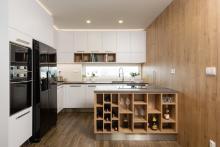 Integrated hardware is one of the more interesting fall 2020 design trends. While a lot of current trends tend to err on the side of boldness, this one goes in the opposite direction. Integrated hardware is a design choice where drawers, cabinets, and similar gateways have their knobs or handles built-in as opposed to being installed separately. This conveys a seamless, sleek look that has less surface area you have to worry about cleaning.
#4 - Embrace Your Green Thumb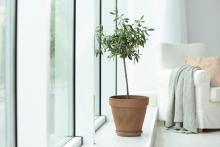 It's no secret that purchasing and caring for indoor plants has been a huge trend throughout the last few years. The truth is… this trend isn't slowing, or going anywhere. Many individuals have found that purchasing and caring for houseplants can be as satisfying as caring for a pet. And there's no better time than now to add some leafy green roommates to your home. With the arrival of fall, mother nature won't be able to provide and sustain fresh greenery outside for much longer. So bring those plants indoors and care for them as best you can. 
#5 - Let Go and Have Fun
We've said it before and we'll say it again: 2020 has been a unique year. There has been a lot of change and a lot of uncertainty. Despite this, people have stayed resilient, been brave, and shown themselves exactly what their convictions are capable of protecting them from. That's where this trend comes in. While it conveys no specific decor choice, it instead reflects a changing in society's general attitudes. A change toward being bold, appreciating the time you have, and not worrying about judgment from others while you have your fun. Long story short: get the pink velvet couch or the fiberglass carousel horse you've been dreaming of placing center stage in your home. If you love it, it's a good design choice.
Turn Over a New Leaf in Your Home
The fall interior design trends above can help you reinvent your home and embrace a whole new look. So if you want to press reset on 2020, reset your home's look and vibe with trends like being bold, putting up floral wallpaper, using earth tones, and more. 
Tune in later this year to find out what the emerging trends will be for winter. In the meantime, you can consider using natural fiber rugs like the ones you can find at Sisal Rugs Direct to add some warm, comforting earth tones to your own living space. Browse our wide selection today.

Sign Up and Save 10%
No, Thanks