Home Decor: The Beginner's Guide to Decorating Your Home
L. Frank Baum's Dorothy said it first: "There is no place like home." 
Home is where we find our peace, relaxation, and safety. It's where we rest at night and rise in the morning. It's the vessel for all the things we hold most important and dear. It makes sense that we'd want such an invaluable place to look great. But… how? No matter whether it's your first or last attempt, it can be overwhelming to decorate a new home.
We want to ease some of that burden. 
That's why we've gathered basic home decor guidelines to get you started below. They'll help you transform and keep your home exactly how you want it: like no other place in the world.
Where Do I Start When It Comes to Decorating My Home?
Step 1: Know Your Style
The first thing you'll have to decide before you start decorating your home is what your personal style is. There are a number of different ways to figure this out. 
One thing you can do is start looking at interior design blogs. Find ones that resonate with you and start collecting images of rooms and decor that you love. You can save them on your computer, post them on Pinterest, or even print them out to create your own physical style board. 
Another thing you can do is look online for interior design quizzes that can point you in the right direction. We even have an interior design quiz of our own on the Sisal Rugs blog that you can check out. Maybe your style is coastal. Maybe it's contemporary, rustic, or industrial. Minimalist or maximalist. Mid-century, baroque, or who knows what else! Knowing your preferred style before you begin helps you make more successful design choices down the line.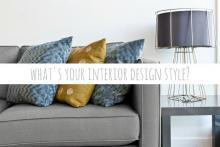 Click here or on the image above to take our quiz!
Step 2: Define the Function of Each Space
Each space in your home should serve a different function like entertaining, dining, relaxing, and so on. Your decor should reflect those functions. Substance and style go hand in hand, and this should be reflected in your home. Don't start buying furniture and decor before you have a plan for the purpose of each room and space. If you do, you'll be more likely to face problems where you have things that don't quite fit. Save yourself the headache by determining a basic plan for each room before you start to decorate. 
One helpful tip: area rugs are a great tool for helping determine individual spaces, especially in popular, modern open concept homes.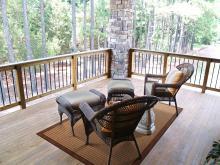 This Four Seasons Outdoor Sisal Rug in the Laguna Dune color helps define the outdoor seating area on this home's balcony.
Step 3: Pick Your Palette
After the style, comes the color palette. That said, you're still going to want the colors you choose to vibe with your overall style. For example, it'll be difficult to decorate your home with a coastal vibe if you keep choosing decor that's dark crimson. If you're into mid-century modern, you'll be better suited to warm tones with pops of orange. Whatever palette you choose, you want it to be cohesive and true to you. If you're unsure where you want to go, you can always start with neutrals and go from there. Otherwise, you can check out this list of our favorite interior design color palettes to get you started.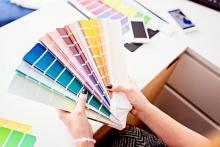 Step 4: Set Your Focal Point
When a room has a focal point, it's easier to decorate. That's because a focal point gives you a central "feature" to decorate around. It's like the gravity in the center of a room, bringing everything together. A focal point can be a number of different things: an architectural feature, a painting, an accent wall, fireplace, antique cabinet, or something else entirely. Remember: a focal point can be any type of object. The only requirements are that something about it is noticeable and that all other decor choices you make for a room relate back to it in some way.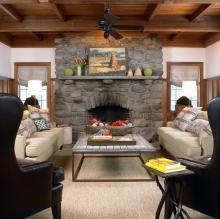 Thanks to creative lighting and furniture arrangements, this space's focal point is the fireplace and mantle.
Step 5: Use the Rule of Odd Numbers
Decorations in odd groupings are more pleasing to the eye than those that are in even numbers. This idea works best when applied to small decor items like candles, vases, and trinkets. Another important thing to consider when creating visually appealing designs is the variation in shape, size, and height. You want to create a space that feels dynamic without becoming cluttered and overwhelming. The rule of odd numbers will help you do exactly that.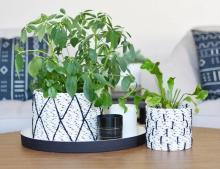 Varied height and sizes help these natural home decor elements stand out.
Discover More Home Decor Tips
There you have it. Decorating your home starts with knowing your own design style and ends with making sure your decor is varied and dynamic. If you're just starting out with your home decor, follow the steps above to make sure your decor is cohesive, stylish, and functional. 
For more home decor advice that will help transform your house from bleak to beautiful, check out some of our best DIY tutorials. Not sure which area rug will fit with your home decor and help you define your space? Use our Try Before You Buy program to get free, curated rug samples.

Sign Up and Save 10%
No, Thanks