Sisal vs. Jute: What's the difference?
Sisal and jute are both popular natural fiber rugs that look alike and get grouped together often, but they are not one and the same. Although they are similar in appearance, sisal and jute fibers differ greatly in texture and durability. When searching for a natural fiber rug, understanding the difference between sisal and jute will help you find the perfect fit for your home.
Keep reading to learn more about the sisal and jute comparison, including a deep dive into what makes each fiber unique and how to determine which is right for your home, office, or hotel.
What's the Difference Between Sisal and Jute?
Harvested from the agave plant, sisal is a sustainable, eco-friendly option for your space. At Sisal Rugs Direct, we handcraft sisal area rugs just for you, offering virtually any shape or size to ensure that they are a perfect fit for your home. Another all-natural, sustainable option is jute. Jute is harvested from the Bengal Delta Plain. Our handcrafted jute area rugs look great as ovals, rounds, and many other shapes to fit your home — indoors or out.
Sisal Carpet and Area Rugs
Sisal is a stiff fiber spun into a yarn-like material. It has a natural, creamy white hue and can be dyed any color — which makes it easy to create a custom a rug to match your interior design scheme. As one of the strongest natural fibers available, sisal is a great fit for high-traffic areas — like hallways and entryways in your home, commercial office, or hospitality space.
Your friends (and pets!) will love a soft, sophisticated Dorado Sisal area rug.
For more information on sisal rugs, check out these 5 facts about sisal everyone should know.
Jute Carpet and Area Rugs
Woven from the stalks of jute plants in India and Bangladesh, jute rugs have a natural brown hue that can be dyed many colors. All of our jute rugs are undyed and in their natural form. But, unlike sisal, jute is one of the softest natural fibers — and therefore slightly less durable.
Although they're not as tough as sisal rugs, jute rugs are soft to the touch and ideal for areas with light traffic where your bare feet can enjoy the gentle weave. A jute rug will be a welcoming addition in your bedroom or family room.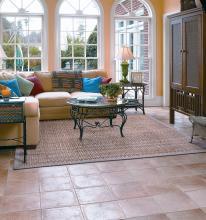 Upgrade your space for the summer with an all-natural basket weave jute area rug.
Sisal vs. Jute: Making the Right Choice
Making the right choice between two eco-friendly, all-natural fibers — sisal and jute — really comes down to location and use. Where will you set up your sisal rug, or jazz up your space with jute? If you are looking to revive a low-traffic room in your home or hotel, consider jute. For busier, high-traffic spaces — like a hotel lobby or commercial office — stick with sisal.
Once you determine placement and use, picking the right rug will be simple. But, if you need a little extra help choosing the shape, color, and binding for your new rug, our experts are ready to help. Lucky for you, we give you the option to try before you buy new carpet for your space.

Sign Up and Save 10%
No, Thanks