Is a Jute Rug Good for Pets? You Bet!
If you're a pet owner, chances are that any furniture or decor purchase you make for your home has your furry friend in mind. Pets shed. Pets scratch and gnaw. Pets have accidents. 
So, you need to choose items that are durable, safe, and easy to clean. This is especially true for area rugs; your floors are ground-zero for lots of paw traffic, collecting hair, and accidents. Plus, rugs are an essential styling focal point; rugs really tie the room together. 
On your hunt for the perfect pet-friendly, you've stumbled across jute rugs as an option. Jute rugs are an incredibly popular rug style for several reasons. They combine style and softness with strength plus they're affordable and versatile. 
But can jute rugs stand up to the rigors of life with pets? Will your cat scratch and ruin your jute rug? Can you wash jute rugs if your puppy has an accident? 
If you're considering a jute rug for your pet-loving home, have no fear. Below you'll find the answers to all of your jute rug pet questions.
Answers to Common Questions About Jute Rugs and Pets
Can You Wash Jute Rugs?
More than likely, this is the first question you have about jute rugs and they're durability for pets. Pets have accidents—it's a fact of life. That means you need a rug that is easy to clean and durable. The good news is that jute rugs are easy to clean.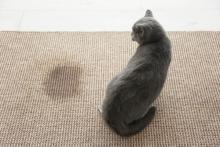 Here's what you need to know, however: Moisture needs to be avoided when cleaning jute rugs. Instead of heading to the washer or reaching for the hose, jute rugs require that you use a dry carpet cleaning solution. Spot cleaners can also be used, but only when blotting, vacuuming, and other dry cleaning methods aren't doing the trick. 
For a quick an easy guide to cleaning, check out our How to Clean Jute Rugs page.
Do Cats Scratch Jute Rugs?
The simple answer to this question? It's possible, but not typical. Scratching is a natural part of feline nature, and plays an essential role in maintaining their health. Luckily for homeowners, cats usually prefer to scratch vertical surfaces. Since rugs lay flat on a horizontal surface, jute area rugs are typically safe from cat scratches.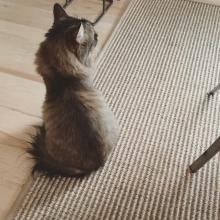 That being said, it's still possible that a claw may make its way into your rug during stretching time. To protect your jute rug from cat scratches, we recommend spraying the rug with an air freshener like Febreeze or something similar as cats typically avoid items that smell like citrus or menthol.
Are Jute Rugs Non-Toxic and Safe for Pets?
When shopping for area rugs, many options are made from synthetic materials and are treated with chemicals to prevent fires, reduce stains, and more. As a result, pet owners are understandably concerned about exposing those area rugs to their pets. Where do jute rugs stand?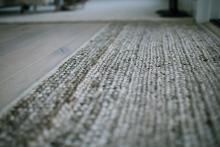 Pictured Above: Jute Mahal runner rug in Birch with a Moon Rock Gray Narrow Cotton border. 
Jute rugs are made with natural fibers harvested directly from the jute plant. The fibers are then hand-woven to create the finished product. This process is 100% toxin-free, allowing you to rest easy knowing your pets can lounge on your jute rug with no negative consequences. No dyes are used on the jute fibers. 
Do Jute Rugs Shed?
You've likely heard that jute rugs have the potential to shed. And since your pets already shed enough, the last thing you want is a rug that only adds to the amount of hair and fibers you need to vacuum. In addition, since pets love to chew and eat most things in their path, including stray rug fibers, you want to avoid a rug that sheds.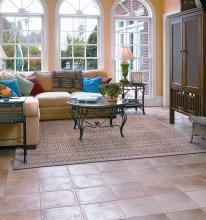 Pictured above: Jute Basketweave area rug in Clay with an Extra Wide Tan border. 
If you're considering a jute area rug for your home, you're in luck when it comes to shedding. Well-made jute area rugs are woven very tightly, minimizing any shedding that may occur.
Give Your Pooch Some Jute
Jute rugs are a perfect pairing for people with pets. They have minimal shedding. The jute fibers are able to stand up to scratches and stains. And they're easy to maintain. But let's not forget that jute rugs are also beautiful additions to any home, giving your space the benefits of both function and style. 
Pets love natural fiber area rugs, including jute. Why is that? Discover why natural fiber is the perfect pet-friendly area rug option. 

Sign Up and Save 10%
No, Thanks