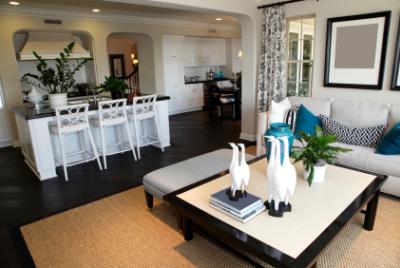 When it comes to selling a home, first impressions are everything. Every potential buyer who comes in to take a look will be trying to imagine their own style in each room, and as the seller it's your job to make that as easy as possible. That's why real estate professionals strongly recommend staging your home with a neutral style. After all, neutral decor may not be your style or the buyer's, but it makes imagining a wide range of styles much easier. And the easier it is for someone to imagine their own style, the more likely they are to get excited about buying your home. 
But neutral doesn't mean boring or careless. In fact, careful attention to detail will help the transitional neutral decor seem intentional and attractive. To achieve a cohesive, well thought out look, it's important to use rugs—and to use the right rugs. When your home is staged properly from floor to ceiling, it is more likely to sell faster, potentially for a higher price.
5 Rugs That Are Perfect for Staging
There are a lot of different reasons for someone to want to stage their home. Maybe you're a designer preparing for an event. Maybe you're a real estate broker setting up for a showing. Maybe you're selling your house all by yourself and want to purchase something versatile that can both be used for staging and move with you. 
Whatever the reason for staging a home, we've got the rugs you need at Sisal Rugs Direct. We've listed five of our favorite rugs that are perfect for staging below.
1. Playa Polysilk Rug 
The Playa Polysilk rug is made out of polysilk, which is a modern synthetic material. The cool thing about polysilk is that it's durable as well as mold and mildew resistant. This durability makes it ideal for home staging, especially if there are going to be an increased number of people walking on it. An added bonus is that because this rug can be used both indoors and outdoors, it's versatile and can be used in a variety of different stagings.
2. Islands Indoor/Outdoor Rug
This rug is on the list for many of the same reasons as the previous one. Made from polypropylene instead of polysilk, the Islands Indoor/Outdoor Rug is a synthetic rug, so it has the same durability benefits. What's different about this particular rug is that it has a nice blue coloration that is mild enough to go with neutrals but interesting enough to be able to bring life to any room it's in.
3. Basketweave Jute Rug
If you look at design blogs that focus on the tenets of staging a home, one common recommendation is to stick to a neutral color palette. It allows the people viewing the home to impose their own furniture, style, and thoughts onto the space around them. That recommendation is why the Basketweave Jute Rug is on this list. Jute is a natural fiber that is soft and durable. It also doesn't take dye particularly well so most jute rugs come in really lovely neutral brown and tan tones.
4. Mali Sisal Rug
The Mali Sisal Rug is one of our best sellers - and for good reason! It has a larger looped weave, which makes it comfortable to walk on, and it comes in seven different neutral tones that go from light to dark. Not to mention the fact that it's made from sisal fibers, which have the strength to stand up to large quantities of foot traffic.
5. Patterns Wool Sisal Rug
The Patterns Wool Sisal Rug is a good choice for home staging because it takes neutral tones but adds visual interest through a basic pattern. It's also made from sisal wool, which is known for having both the durability of sisal and the softness of wool.
The five rugs we've listed in this post are some of our favorites, but they're not all of them. To browse more rugs that are perfect for staging, check out our wide selection of rugs made from sisal and other natural fibers.
Room by Room Tips For Staging with Rugs
Living room
The living room is the focal point of any home, so it is very important to get the details right when staging your living room with a rug. A large, natural fiber rug in a neutral color will help give the room a sense of gentle cohesion and calm–perfect for reinforcing the neutral decor look. 
When putting a rug in the living room, make sure the front legs of each piece of furniture are able to sit on the edge of the rug. This helps keep the rug in place and helps the room feel larger. If the rug is too small for the front legs of the furniture to fit on it, it can actually make the room feel smaller. 
To create some visual interest without adding color, patterns, or bold artwork, consider arranging an arm chair at a 45 degree angle to the corner of a rug. This can help define the border of the spaces, especially in larger rooms or homes with an open floor plan. 
Dining room 
A rug in the dining room is always a good idea, but especially so when staging your home for sale. Potential buyers may want to try out how it feels to sit at the dinner table, but they may not pull the chairs out with the care needed to keep them from scratching the floors. A rug under the table can keep the floors scratch free while helping to make a more defined, cozier boundary around the table. Just make sure the rug is large enough so your chairs are still on the rug when you pull them out from the table. 
Bedroom 
A rug in the bedroom is a great way to provide comfort and warmth, especially if the bedroom has hardwood or concrete floors. No buyer will be excited about a cold, hard floor in what is supposed to be the most restful room in the house! When choosing a bedroom rug, focus on picking a soft material and make sure to have a rug pad to enhance the softness and keep the rug from slipping. 
Options for how to arrange a rug in the bedroom are plentiful and depend on the size of bed. Check out our bedroom rug sizing guide for tips on how to determine the number, size, and configuration of rugs for your bedroom. Rugs can also be useful for defining unconventional spaces like reading nooks in particularly large bedrooms. 
Kitchen
Kitchens have some of the most variable shapes out of any room of the house. But don't overlook this room when rounding out your staging design. No matter what configuration your kitchen–from a cozy galley to a spacious gourmet chef's kitchen–a custom shaped rug can be an easy decorating win. 
Hallway 
You may not think of a hallway as a room, but they are still part of the design space of your house. Giving proper attention to the details in your hallways will go a long way in impressing potential buyers. A custom cut runner will add a sense of definition and unexpected visual interest to your hallway. All you need for a hallway rug is to measure properly and to not be intimidated by halls that turn a corner—unique layouts are what custom rugs are all about.
3 Pro Tips for Staging Your House for Sale with Rugs
Use rugs to draw attention to a feature—or away from one
Area rugs can tone down any decorative features you aren't able to remove, like well worn furniture, patterned wallpaper, or an outdated light fixture. 
Rugs can also highlight features you want buyers to notice. For example, use a round rug to emphasize a round window, or custom shaped rug to call out a cozy sitting area in an oddly shaped living room.  
Add unobtrusive visual interest with rug layering
Staging your home is all about getting potential buyers excited about the idea of moving in. While maintaining a light, neutral touch on your decor choices is essential, you don't have to keep everything straightforward and obvious. One simple way to add an unexpected design detail is to layer two or more rugs. 
When layering, be sure to choose the right base rug and the right top rug. It's also important to make sure the layered rugs follow the sizing and placement rules for whichever room they're in. 
For more about rug layering, check out our post A Modern Guide to Layering Rugs. 
Set the stage for good photography
The first first impression doesn't happen when a potential buyer walks into your home. It happens when they see your house listing's promotional pictures. It's easy to take a bad picture–improper lighting, the wrong angle, no consideration for whether the room is clean. All of these can cause a potential buyer to skip over your house before they even step foot in it. 
Before you list your house, be sure to consult our guide, How to Stage and Photograph Rugs.  
Step up Your Staging Game with Sisal Rugs
Home staging companies and homeowners alike have relied on Sisal Rugs Direct for years to help put the finishing touches on the perfect home staging design. We have an extensive collection of natural sisal, seagrass, jute, sisal/wool, and indoor/outdoor polypropylene area rugs that can be customized for any room. 
Get started by checking out our wide variety of custom rugs. 
Please provide us information about the project you need a quote or design help on and one of our representatives will be in contact with you shortly.

Sign Up and Save 10%
No, Thanks