The Top 6 Interior Design Trends for 2022
The new year is quickly approaching and you know what that means: out with the old and in with the new interior design trends. 
While some looks will always stand the test of time, it's always fun to see what the future of home decor holds. 
Here's our round up of the top interior design trends for 2022 that will make any space trendy and stylish. 
#1 - Build a Foundation of Neutral Colors
For some time now, the color white has reigned supreme in interior spaces. Ivory walls, furniture, and countertops have adorned homes as part of the minimalist style trend for quite some time now. In 2022, however, it's time to say 'hello' to a splash of earth tones in your home.
Look out for colors like sage, rust, and tan to make more appearances. These "new" neutrals serve as a great base for living spaces, and have the benefit of introducing a bit more color than their white-tone predecessors. You can integrate these colors into your home through paint, drapery, area rugs, or even a new couch. 
Pictured above is our Porto Sisal Rug in Greige color. 
#2 - Make a Room Pop with Bright Colors
Looking for a little bit more pop to add to your living spaces? Well then don't worry because bright colors are making a comeback as well. 
Vibrant yellows, pinks and greens are all part of the 2022 color palette. They bring cheerfulness and energy to a space. You can even go so far to think about colorful tiles or glass to add flare to any room.
Our colorful and earth tone Lima Outdoor Sisal Rugs.
#3 - Create Intrigue with Antiques
When it comes to furniture in 2022, you may want to reverse the common saying and think 'out with the new and in with the old'—as in antiques. These vintage pieces are finding their way back into homes more than ever. As design tastes move away from the clean, sparse spaces, antiques easily add a sense of coziness and charm to a space.
Typically made from natural materials like wood, antiques also play into the neutral color trend mentioned before. They are also a great, sustainable decoration option. Renew, reuse, redecorate!
#4 - Add Textured Details for Versatility
Not really an antique person? Don't sweat it. Focus on this next design trend. Textured furniture and accents are a fantastic way to spruce up a room. Think velvet loveseats, fringed pillows, and waffled throw blankets. After so much time quarantining indoors, plush and soft textures are becoming the new norm.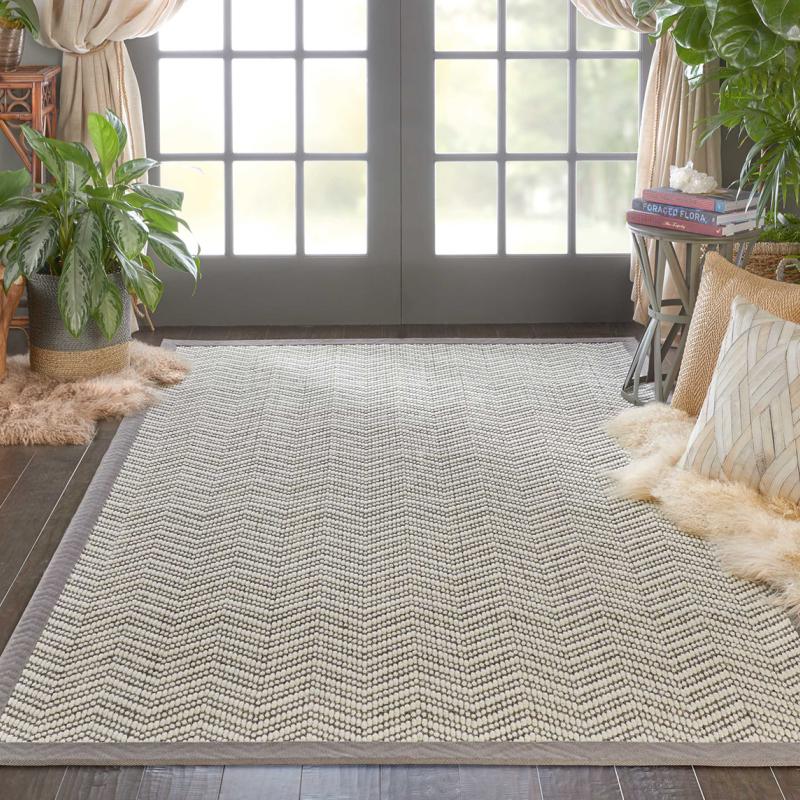 Our Wave Wool Sisal Rug in Dove.
#5 - Design a Stylish Home Office 
Remote work is here to stay, and with that so does the home office. If you've been fighting the urge to reinvent your workspace, stop holding back. 2022 is the year of the thoughtfully designed home office space. 
While there are no specific rules, you should embellish your home workspace with furniture that is both functional and suits your personal style. Paint an accent wall, adorn your desk with fun accessories, and indulge in some indoor plants.
#6 - Incorporate Natural & Sustainable Materials
If it's synthetic, you are free to leave it in 2021. The new year calls for natural materials like wood, marble, and clay. These materials easily add texture and unique color to any space.
Sustainability is also more important than ever in interior design. Look out for materials like hemp, jute, and seagrass. All are sustainable natural fibers that add warmth and style to any room.
Our sustainable Hemp Grass Rug in Winter Walk.
Start Redecorating
Now that you've got the rundown of 2022 design trends, you're ready to start redecorating your home. Take a look at our full natural fiber rug selections for some inspiration as you begin your redesign process.

Sign Up and Save 10%
No, Thanks