5 Interior Design Ideas for the Kitchen That Are Beautiful AND Functional
Whether it's preparing a meal, hanging out by the kitchen island while entertaining, or cleaning up, the average person spends roughly 2.8 hours each day in the kitchen. 
However, arguably the most important part of the kitchen is its ability to help you cook efficiently, store all of your nifty kitchen gadgets, and clean up relatively quick. It's the classic choice of function over fashion. But wouldn't it be nice if your kitchen had both, though? 
Luckily, we have several kitchen interior design ideas that can fix that and give you the best of both worlds.
1. Add Contrasts
An easy way to create a visually appealing design is to use contrasting tones, colors, and textures. Instead of leaving a single note, add dimension and interest to your kitchens through opposite shades or textures. 
For example, if you have dark countertops, go with white cabinets to contrast the colors. If you're not installing a brand new kitchen, painting your cabinets or surrounding walls are an easy change you can make all on your own. And you can play with contrasts by adding a colorful accent wall as well. The main goal is to create a balanced look that complements the space instead of washing it out or overpowering the design.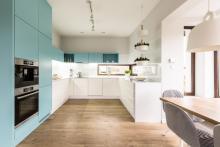 2. Create an Eye-Catching Backsplash
Tiles come in a wide range of colors, sizes, and textures. Ranging from smooth ceramic to wavy, natural stone, backsplashes add eye-pleasing and textural dimension to your kitchen. Plus, it'll help you save your kitchen's walls from water damage, stains, and potential mold build-up. 
If your backsplash isn't giving you the vibe you're looking for, consider giving it a revamp. You can find plenty of awesome backsplash tile options at your local tile shop. For a clean look, we love subway tile backsplashes as the tiles are large and smooth, adding to a neat, modern, minimalistic design style. If you're going the most rustic or industrial route, try a natural stone or tile grouping that showcases some copper tones. If you're feeling bold, you can even remove and install the backsplash on your own. However, be extra careful with the grout as it can dry on your tiles, leaving a permanent mark. 
Not sure what you should create? Check out any one of these amazing interior designers on Pinterest and take a look at their kitchen boards for some inspiration.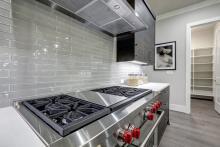 3. Lay Down a Comfy Area Rug
When you're cooking or cleaning the dishes, you're always on your feet. And it with hardwood floors or tile in the kitchen, it's not great for your feet or back. In fact, standing for long periods of time can result in foot, ankle, and back injuries. It goes to show that your kitchen could benefit from a little bit more comfort. 
An area rug is a fantastic addition to any kitchen, as it provides your feet with some much-needed support. Plus, there are several types of area rugs that are water and stain resistant, making them ideal for your home's kitchen where messes are bound to happen. For help selecting the right rug, view our guide on the best kitchen area rugs, including polypropylene rugs, seagrass rugs, and more.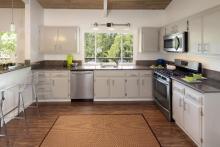 Want the look pictured above in your own kitchen? Shop our All Weather Polypropylene Rugs
and select the Fuji Mahogany rug color with a Chocolate Narrow Cotton binding. 
And before you lay down an area rug in your kitchen, you need to purchase a rug pad as well. Rug pads offer an extra layer of cushioning to prevent foot, ankle, and back strain, helping you avoid any additional discomfort or injury. 
Still having doubts as to what area rug you should get for your kitchen? Fill out our style profile and we'll send you six hand-picked rug samples for you to try out. The best part? It's 100% free.
4. Upgrade Your Hardware
Remember those contrasting textures we talked about? Well, hardware can bring some much-needed shine, texture, and personality into your kitchen space. And it can be a quick, easy change to make as well. For example, if your cabinet hardware is more muted with a matte finish, try giving it an upgrade to brushed nickel, brass, or marble material. There are countless types of hardware materials, types, and style to choose from, but stay true to your interior design style (e.g. rustic, industrial, contemporary, coastal) and you'll find the perfect fit.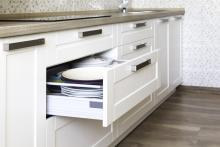 5. Display Your Go-To Gadgets
There are a lot of tools in your kitchen. From spatulas to mixers, you have a lot of utensils and appliances at your disposal and your kitchen needs to be built to store them all. Or does it? 
While you most likely want to hide your large gadgets like the Kitchenaid mixer or your toaster, those little utensils like whisks, wooden spoons, ladles, or tongs can actually make for fun decorations that leave your favorite tools just an arm's reach away. With a decorative utensil jar, you can proudly gather and display your go-to tools next to your stovetop where you'll need them the most. Or, if you're feeling like that might take up too much counter space, you can build a rack or shelf that allows you to hang your tools, pots, or pans creating an eye-catching focal point in your kitchen.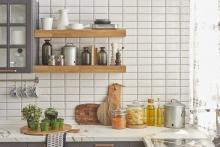 Everything and the Kitchen Sink
You spend a lot of time in your kitchen. And while it should be functional, it should also be beautiful. The kitchen interior design ideas above will help you achieve that goal. Through comfy area rugs, using your utensils as decorations, upgrading your hardware, and more, you're well on your way to creating a kitchen space that you'll love and appreciate for a long time to come. 
Need to renovate more than just your kitchen? Check out our other style guides for interior design ideas and inspiration: 

Sign Up and Save 10%
No, Thanks